Portion of Poe's Hair from Collection of John Reznikoff.
From June 22 until September 17, 2017, the Edgar Allan Poe Museum in Richmond, Virginia will feature Investigating History: Testing Edgar Allan Poe's Hair, a groundbreaking new exhibit examining the latest scientific testing of the nineteenth century author Edgar Allan Poe's hair by University of Virginia scientist Stephen Macko. These tests provide valuable clues to the mystery surrounding Poe's final days and sudden, unexplained death at the age of forty. The exhibit brings together more samples of Poe's hair than have been seen in the same place since they were still on Poe's head back in 1849. Other hair samples on display include a lock of Poe's wife Virginia Clemm Poe's hair as well as a lock of hair from Poe's friend Eliza White, the subject of Poe's poem "To Eliza."
On Thursday, August 24 from 6-9 p.m. the Poe Museum will celebrate this important exhibit with an Unhappy Hour featuring "The Tell-Tale Hair," a short talk by Stephen "The Hair Doctor" Macko, the University of Virginia scientist who performed the latest analysis of Poe's hair.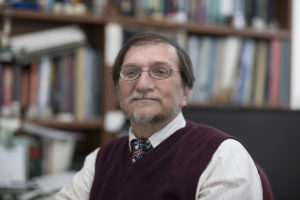 Stephen Macko is a Professor of Isotope and Organic Geochemistry in the Department of Environmental Sciences at the University of Virginia. He has authored over 300 refereed research papers and books including the singular work in the field, Organic Geochemistry. He was elected a Fellow of the Geochemical Society and of the European Association of Geochemistry and was a Corresponding Editor for EOS, the publication of the American Geophysical Union. He recently held the position of Program Officer for Geobiology and Low Temperature Geochemistry at the US National Science Foundation.
His research includes studies on chemosynthesis at cold seeps and hydrothermal vents using the Johnson Sea Link and Alvin submersibles; identifying geochemical biomarkers of climate change in high Arctic marine sediments and in soils of sub-Saharan Africa. He has been a scientist or chief scientist on numerous oceanographic expeditions, being involved in five legs of the Ocean Drilling Program including the Antarctic Legs 113 and 119 and the sub-Arctic Leg 105 and in dives to depths of over 500m in the submersible Johnson Sea Link. He was a principal research scientist on the High Arctic Canadian Ice Island during five field seasons. He has been long been involved with oil spill assessment. His laboratory has been featured on the Discovery and National Geographic television channels (The Moche Murder Mystery, Ultimate Guide to Mummies), the independent Peabody Award winning film, King Corn, as well internationally, including the Seoul Broadcasting System (SBS, Korea), Munhwa Broadcasting Corporation (MBC, Yeosu, Korea), Ríkisútvarpið Public Television (RUV, Reykjavik, Iceland) and Japan Broadcasting Corporation (NHK).