January 22
@
12:00 pm
–
5:00 pm
Edgar Allan Poe wants everyone to celebrate his birthday, evermore! Bring your family to the Poe Museum on Sunday, January 22nd to celebrate Poe's 214th birthday. This day is created for families with kids age 4-15 but open to all ages. It's a party to die for!
Along with the scheduled programming, there will be ongoing scavenger hunts, poetry workshops, and coloring activities. This event will be held in our Enchanted Garden with a heated tent. Please dress accordingly. Complimentary snacks and beverages will be available.
Can't make it? See our complete weekend schedule including virtual options.
SUNDAY SCHEDULE
11:00am-12:00pm – The Poe Museum is open during regular business hours.
12:00pm-1:00pm: Poetry Reading and Workshop with Author Adele Gardener
Author Adele Gardner will perform a short reading of her poetry and will host a fun, kid-friendly poetry workshop. Adele Gardner is a cat-loving cataloging librarian and the award-winning creator of over 450 published poems, stories, illustrations, songs, and essays. Recommended for ages 8 and up.
1:00-2:00pm: The Raven Reading Hour
Join us in the Poe Museum's Enchanted Garden for a whimsical hour of story time. These books are age-appropriate Edgar Allan Poe themed stories and Poe's poetry. Our Programs Coordinator will read from a selection of children's books and Poe poems. Recommended for ages 4 & up.
2:00-3:00: Magic Show with Hunter Rhodes
Come witness a magical experience in our Enchanted Garden! Hunter magically make things disappear, reappear, and levitate. Magician Hunter Rhodes is a dynamic, hip, entertaining magician, based in Richmond Virginia. Prepare for a show that will leave you smiling, laughing, and amazed! Recommended for ages 4 and up.
3:00-4:00: Living History with Eliza Poe
Edgar Allan Poe's mother was a famous actress, loving mother, and vibrant person in her own right. In her short, yet adventurous 24 years of life, Eliza Poe was able to create a legacy that would become an unending well of inspiration for her most famous child. Join us for a performance by Debbie Phillips as Eliza Poe. Debbie Phillips, a native of Chesterfield, has worked in public history for over 15 years, and is passionate about bringing history to life for audiences of all ages. Recommended for ages 8 and up.

4:00-5:00pm: Readings with Author Phillip Hilliker
Phillip Hilliker will be reading a section of his published story "Broken Home" and will host a interactive monster illustration activity. Phillip Hilliker is an author and illustrator in central Virginia focusing on children's books. He is also the membership coordinator for James River Writers (JRW), a nonprofit in central Virginia that strives to support the literary community through a combination of professional-development programming and social gatherings. Recommended for ages 8 and up.
Thank you to our sponsors: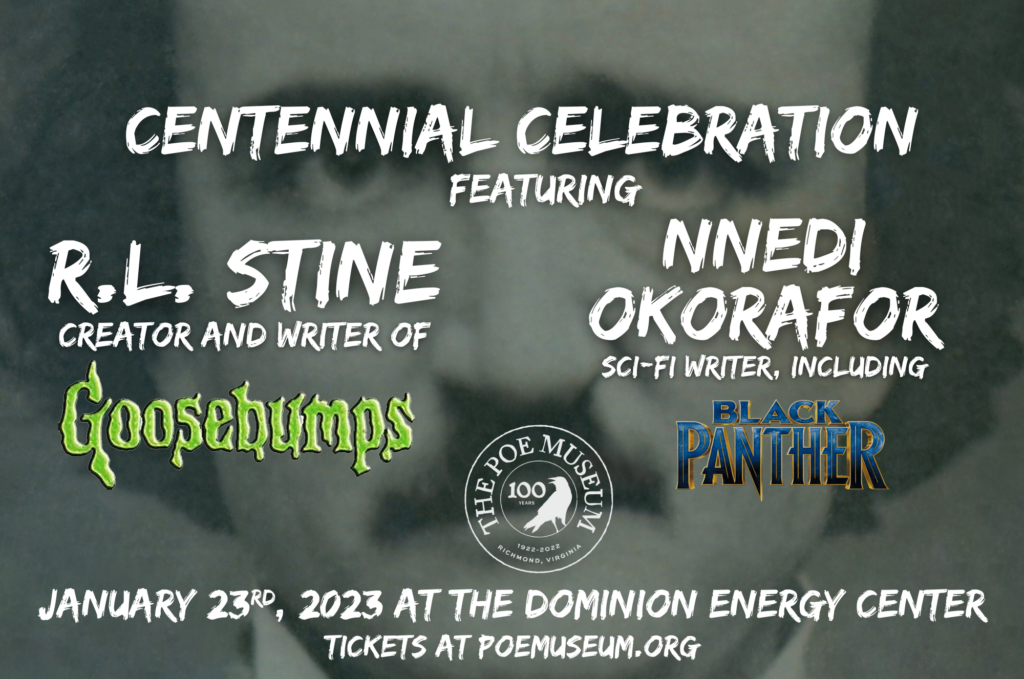 This event is a part of our Centennial Celebration. Join us in celebrating our 100 year anniversary with writers R.L. Stine (Goosebumps) and Nnedi Okorafor (Who Fears Death, Black Panther). Tickets available here.
---