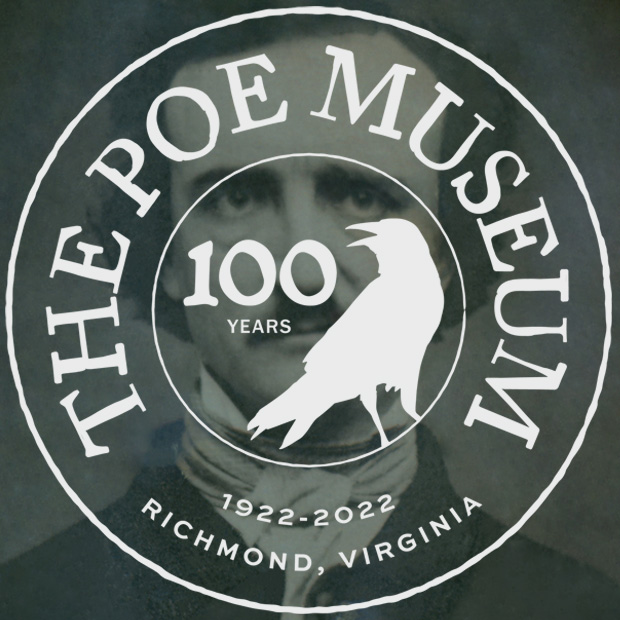 The Poe Museum turned 100 in 2022! To celebrate, we are hosting a poetry contest for Richmond (and surrounding area) schools. See below for details:
Edgar Allan Poe was one of America's great lyric poets. It was here in Richmond that he wrote his first poems. We can think of no better way to honor him than to invite the young poets of Virginia to participate in this contest!
• Who can enter
o Any 6th -12th grade students/classroom in the State of Virginia
o Each classroom may submit ONE poem to the contest.
o The contest is NOT limited to English classes; all subject areas may submit!

• Prize
o The winning poet and their entire classroom will be awarded with tickets to the Poe Museum's Centennial Capstone event on January 23rd at the Dominion
Energy Center where authors R.L. Stine and Nnedi Okarafor will be speaking about Edgar Allan Poe's influence on their writing.
▪ R.L. Stine – author of the acclaimed Goosebumps series of children's horror novels!
▪ Nnedi Okorafor – award-winning author of science fiction and fantasy for both children and adults!

• Submission requirements and guidelines
o Each classroom may submit ONE poem. If a class has multiple submissions, they will need to select which one they would like to submit to the contest.
o Poems can be up to 350 words. There is no page or form restriction.
o Please no accompanying images, sketches, drawings, etc.
o Poems should be Poe-themed, Poe-inspired, or connected to Poe in some way.
o Poems should be submitted in PDF format to poetrycontest@poemuseum.org with the subject line "Centennial Poetry Contest Submission".

▪ Submission email should contain the following information: title of poem, name of the poet, poet's grade, their teacher's name, the school they attend, and contact information for poet's teacher.
▪ The PDF file of the poem should be entitled in the following manner:
"TITLE_poet's initials"
▪ Please do not put any identifying information on the poem. The only identifying information should be in the submission email and the initials in the file title.
o SUBMISSION DEADLINE: November 14th, 2022

• The Judges
o Harry Kollatz – long-time writer for the Richmond Magazine
o Chance Fischer – local hip-hop artist recently signed to Shockoe Records
o Kiara Thompson – Richmond Public Schools 2022 Teacher of the Year
o Steven Sinnenburg – producer and organizer of the Poe Film Festival
o George Poe – University of the South Professor of French and French Studies Poe
Museum board member
• Questions?
o Please direct all questions to poetrycontest@poemuseum.org